"Let us change", Awasa Dec. 18th, 2010
I am sure many of you would have bet that once I go to Africa I would get into some kind of aid work. Well, you are right but only in small scale. There are so many dimensions to this topic, it would cover a 2 hour presentation plus endless discussions by itself. However, now I ran into a concrete project, I see it with my own eyes, it is Christmas and I want to do my share in making the world a better place, helping 15 children in Africa to have a decent life and more important, a chance for the future. And yes, I want you to help as well. Don't feel obliged. I also will go on with my world trip after finishing this report. But I would appreciate if you read it and decide if and what you want to add.
Arriving in Awasa, south of Addis Abeba, Ethiopia, I met Johan, a 24 year old Belgian. I had Dinner with him and he told me about his project. The whole next day I spent with him, perceiving, being touched and deciding to try to help. Following the story of Johan and Aynalem from the beginning to today:
Aynalem is a wonderful 56 year old Ethiopian lady managing the "Circle of life" hotel in Awasa. She has raised her many kids alone, as many woman have to do here, with some of them now living abroad, one daughter for example married to Australia. Normally, seeing extreme poverty day by day, those people who are better off, start to ignore this topic, just not seeing it anymore. Not so Aynalem. She always felt pain seeing children begging and young adults without a future and gave what she had.
Then came Nebiyu a young street child and triggered what was so long bubbling inside. What differentiated him from the other kids was his begging for food instead of money. She decided one day to take a look at his home. "Home" is the wrong word as these children live on the street. Rather the place to sleep and where to find the parents. It was a 2 by 2m plastic box, his parents drunk or on "chat". Chat is a plant and people chew its leaves. It's a strong drug illegal in Europe but legal in Ethiopia (and the whole Arabic world) as even Ministers openly admit to chew it. Aynalem officially adopted Nebiyu (on right side of Aynalem in the picture), the start of more to come.
At the same time young Belgian journalist student Johan visits Ethiopia planning to write his thesis on the country. Staying at the "Circle of life" hotel he witnesses the adoption, becoming friends with Aynalem and just before returning he asks: "Why don't we make this bigger, why don't we help more children? Why don't we start a Non Government Organisation (NGO)? Awasa is the capital of NGO's in Africa as Ethiopia is stable and safe. Their work is essential and important but not really efficient. Once an African works for an NGO, for white people, he believes money is unlimited. All of a sudden they need a lap top, a nice office and a 4x4 car. I have never seen a higher density of Toyota Landcruiser than in Awasa. Aynalem and Johann did not want to add to that and started their own NGO called "Let us change". The name refers to the Obama campaign in the time of founding.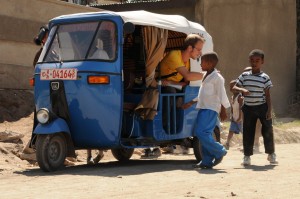 Since 2 years now Johann works in Belgium, raising money, and stays in Awasa for about 3 to 4 months a year. What have they achieved during this time? A lot. 15 Street children aged 3 to 12 now live in a rented house. When talking of street children here come 2 examples of what that means. When restaurants were brushing the dirt onto the street these children were waiting to eat the pieces of food within the dirt. When they for the first time had to go to bed in the new house they were screaming and crying. Why? They did not know what a mattress is and they did not know to be told to sleep. On the street they sleep when tired or when not too hungry.
Besides shelter, a bed, food and education there is something else those kids need and demand -- Love. They have never received love, a kiss, a hug or a smile. So Aynalem spends most her energy on giving love, being there for them.
Johan spends his energy on managing workers and bureaucracy, not easy, let me tell you. Again, when hiring locals for work, they understand it is for white people, it is for an NGO. So they ask more money and or work slow / bad to stay longer. The average pay per day is about 1€. Some want 20 because it is a NGO. See the little example yourself.
Bureaucracy is another big one, not so much for the house itself but in a political way. The local ministers have to agree. Best combination is, if they don't have to do anything but can claim the rum for the achieved. Without their permission it is even dangerous to do something. A good reason for many not to go on further.
Not for Aynalem and Johan. So far they manage to put 100% of the raised money into the help itself. Help not only for children but also for adults. They have hired a Rikscha driver, 3 nannies, 2 cooking ladies, 1 cleaning lady, 1 guard and 1 teacher (for home work after school and social teaching). Some of these adults were living on the streets themselves now having a job, a place to sleep and a future as well.
Now, where does the money come from and what are the future plans. The current costs to cover everything are less than 1000€ a month. Everything means everything. House rent including energy etc., workers, employees, teachers, school fees, food and clothing. Everything. To give you an idea. The school fee is 8€/month per child and that is expensive as they choose private over public school. Almost 10% of the monthly costs is milk (80€/month) but Aynalem believes that milk is important for the children.
The money comes from European sponsors, mainly Italian, Belgian and German once as well as from Aynalem sons and daughters from abroad. The biggest fear they have is that one day the sponsoring stops and they would like to be more self funding. Two projects are in the pipe for that. A separate building is almost done to hold a weaving machine. Their products, scarfs and blankets, shall be sold to tourists and in Europe.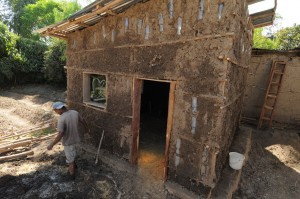 The second one is more long term. They would like to buy land and start a chicken farm, chicken being a big thing in Ethiopia. Besides self funding this farm would also provide more jobs and training / teaching possibilities for the children.
Now what can I and you do to support "Let us change". Of course, money is the big thing. Easy to transport to Ethiopia and in the right hands it can buy soooo much. I personally set myself the goal to finance the big water tank with this call for help. This tank shall collect rain water for the gardening and showers. Very often the pipe water is shut off for 2 days or more and things becomes difficult. For this tank including installation etc. we are talking about roughly 300€. If you do want to donate please contact me. We (Angi, Thomas and I) are also opening up a specially dedicated account but it takes a while so please use the one above for now. Later we will transfer the money without fees or extra costs to Johan.
Then clothing and shoes are needed urgently for children aged 3 to 12. It is very dry out here, the streets are rough and so especially shoes wear out in no time. Local shoes also have no quality to last. But also pens, games, base caps and so on help. Just think about 15 children living in a house and what they might need. Johan and his friends are travelling regularly between Belgium and Ethiopia. 40kg are allowed on the plane. 10kg they need for themselves leaving 30kg for these things. A package is too expensive and would waste money needed here directly. Angi and Thomas collect what you have either when they meet you or if you want to send it to them.
In terms of timing I make this call now, before Christmas. Hopefully you hear it and add your part. In January we will see the status and transfer the money to Johan. Regarding clothing and shoes it will take time but if we can hand it to Johan in March / April, great.
Well, this is my report on "Let us change", a small local NGO helping 15 children and about 10 adults to create a better future for them. Take care, merry Christmas, a happy new year and looking forward to hearing from you.
FRANK