"Wake up, Martin, wake up!!!!!!!!!", Kampala Jan 29th, 2011
The following post might offend you but it has happened, it is part of my trip and therefore it goes into the diary, in the way I perceived it………..
Oh my god, I have to share this with you and if this story does not belong into the fun and odd category I do not know which one does.  Even though my posts still need catch up to the current days you need to hear this. I am sure most of the readers are around my age, meaning beyond the "I get totally drunk and can not remember what happened last night" age but anyway, here we go.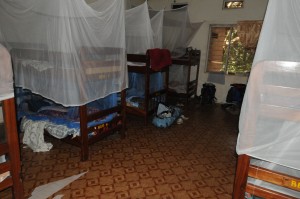 I am staying in this dormetry in the backpackers in Kampala and that means 6 bunk beds, capacity of 12 mixed people. About 8 people are sleeping when around 5am the door opens and the light gets turned on. Its Martin, a polish fellow, with a quiet nice black woman. He is completly drunk, she is completly confused – "this is not your bed, where is your room." Well, sorry for her but with a rather angry voice I confirm: "It is Martin's bed and please turn off the light." She does and soon later you can hear some noice of her doing what she gets paid for. If you think that is strange, disgusting or funny, wait, its getting better: Around 7:30 am I get ripped out of sleep by screaming girls: First its jsut one screaming: "Wake up, Martin, wake up!!!!" Then the other girls and boys join in: "Wake up Martin, you are pissing on the floor, in the middle of the dormetry!!!!!! Wake up!" Then I see what will be burned into my brain until I leave this planet. Martin stands facing the wall next to the door and lets nature flow right onto the plastic floor. When finished he goes back to bed.
Confronted with screaming girls he opens his eyes and says: "What, what, that was not me." At this point my patience is over and I get out of bed, grap his arm, through him out of the door and tell him to get somebody to clean this. About 5 minutes later, its start to stink a bit, he comes back and goes to bed again. Now young yelling american and canadian girls get him up again with the coment: "It was not me but I clean it." I guess more than that is not to be expected in the state he is in.
I ask where the black girl is, he came with. She comes out of Martin's bed and say's: "I met him in this club and he was completly wasted." Oh yes, we did not see that. As she leaves the cleaning lady comes in and makes a good job. Everybody laughes and goes to sleep again. I am wondering if I just find that extremly funny or if am not in that age anymore and if Martin will remember when he wakes up. What do you think…………